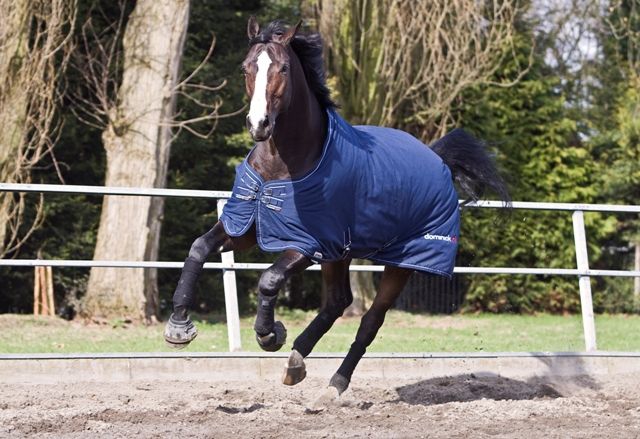 Dominick Staldeken
€144.99 incl. btw*
De Dominick staldeken van topkwaliteit!
1000D Cordura nylon met een katoenen voering.
Verkrijgbaar zonder vulling, of met 200 of 350 grams vulling.
Deze deken is zeer goed ademend waardoor de deken tot 20 ºC te dragen is.
De deken is geschikt voor zowel binnen- als buitenstallen of in combinatie met andere Dominick dekens.

Dominick's pasvorm en D.L.S. techniek zorgt voor een lichte, stabiele ligging en ongelimiteerde bewegingsvrijheid en voorkomt irritaties en schuurplekken. Voorzien van:

- dubbele voorsluiting
- kruissingels
- afneembare bilriemen

Verkrijgbaar in de kleur:
- navy
- zwart

Maatvoering

De dekenmaat is afhankelijk van de stokmaat en bouw van het paard.
Hieronder een richtlijn.
Stokmaat Maat
1.40 - 1.50 XS
1.48 - 1.62 S
1.60 - 1.66 M
1.65 - 1.72 L
1.69 en hoger XL

Gratis verzending!
* Gebaseerd op verblijf in Netherlands. Btw tarieven voor andere landen worden berekend aan de kassa. Prijs exclusief btw: €119.83.